While still a serious percentage of WordPress community and tech people ignore or underrate the new WordPress editor, Gutenberg, few embrace and realize that it's here to stay, like for good.
Most devs and the majority of the user base expressed their despise on the new editor after WordPress 5.0, but there's one thing to focus on the matter: The majority of the complaints are not about bad Gutenberg is, it's about why it is forced as the default editor now.
With my designer or user hat on, when I look at the matter, I see it's an already too late decision. Not way too late though, since I'm writing this post with Gutenberg and I enjoy doing so as a WordPress user.
I'm attaching the screenshot of the current state I have on this post in my editor, and you tell me what's wrong with using Gutenberg for content editing and why I would still need a builder plugin: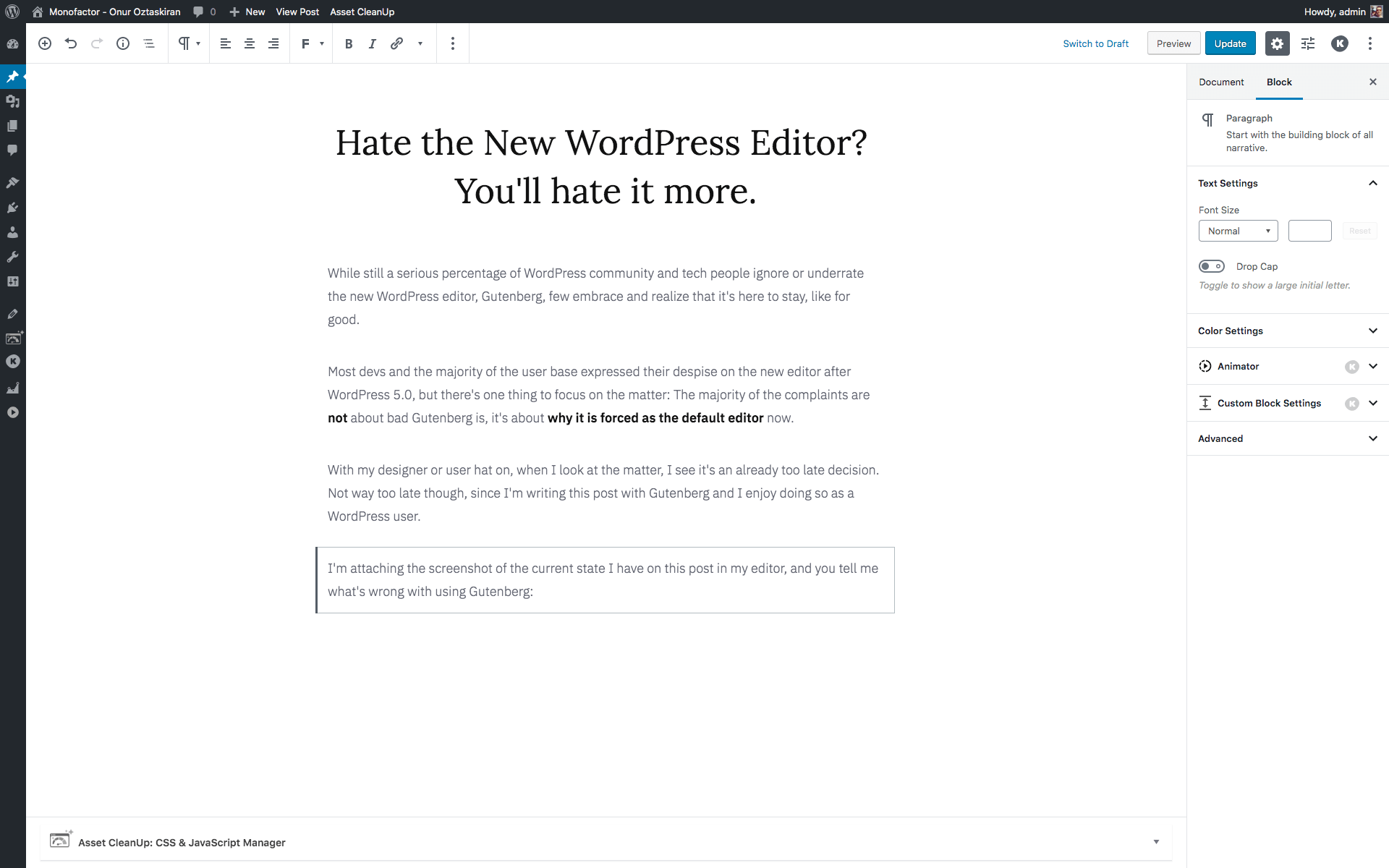 Now I find it hard to grasp how someone would still want to go back to the classic editor while (with the additional style and front end help of the GB compatible themes) this experience is so much more modern and intuitive.
Yes, there's a learning curve to it and the editor and the project itself is still not fully mature yet, but it will eventually get there. So, are you a permanent WordPress user or developer and you hate it, let's repeat the title of this post: You will hate it more.
Why?
Basically because you will be sorry for yourself about it.
When that day comes, you will be sorry about how late you are to adopt and if you're a developer, you'll hate everything about Gutenberg even more because you took your time on developing extensions, designs and premium products for the old age page builder plugins and it's not selling anymore.
I don't like quoting people for reference, but this one is crucial. @Matt Mullenweg has been saying it:
Learn JavaScript deeply.
It is the age of React, Php 7 and front end generated content. Why would you still waste your time on authoring shortcodes or (if you're a marketer)seeking plugins just to insert a visual facebook share to your post, add videos or galleries?
You'll have to realize, the content building experience wars has just begun. And WordPress will eventually prevail again. Even if you hate what's new about it or not.
I would want to say this post is about my 2 cents, but it's not. It's what I see and know coming. Are you a developer? Start learning React! Are you a WordPress user/agency/marketer? Start using Gutenberg before you are left behind!
Or well hate WordPress and stop using it.